Featured Branding Projects
Our branding work for dealers goes well beyond logos. Whether it's a brand refresh or a complete Brand Management Strategy, we help dealers better align their brand with their ideal audience.
Hagedorn's Appliances Logo & Style Guide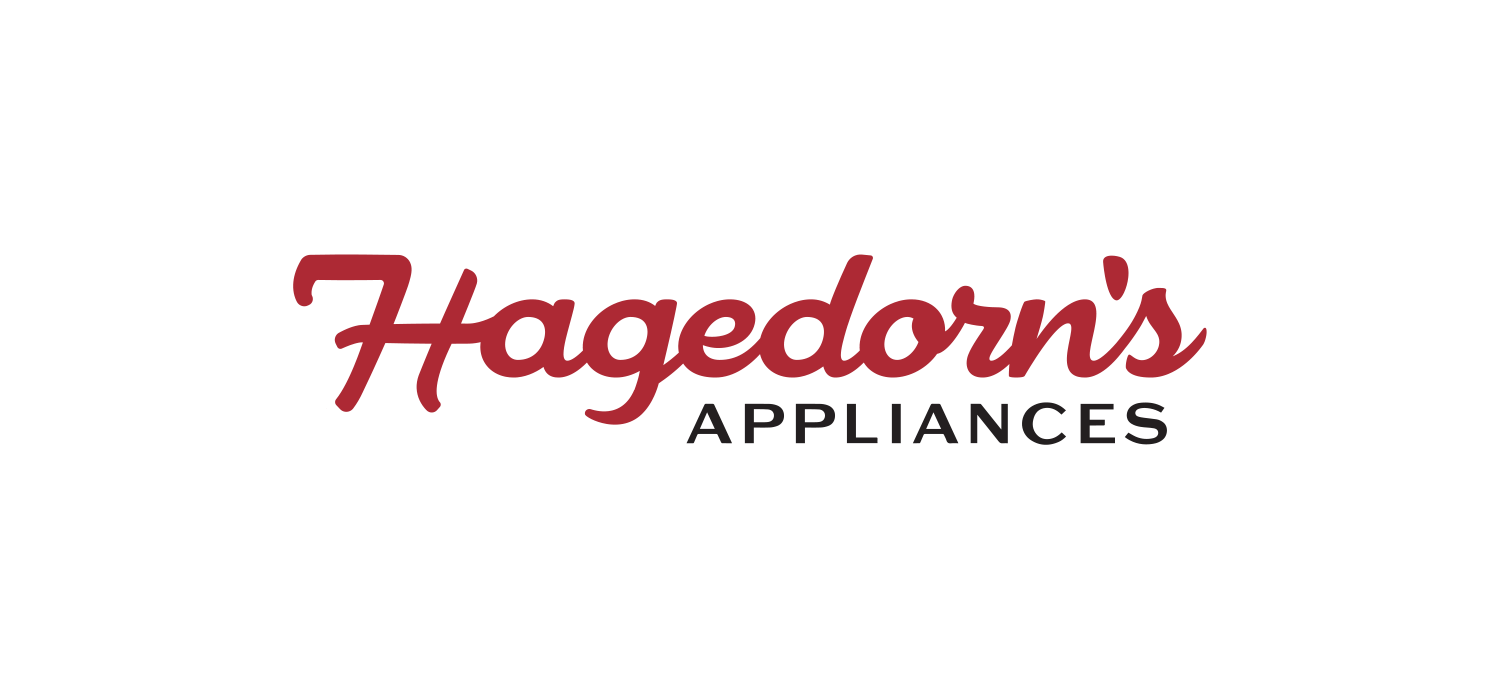 A long-time local business dedicated to exceptional customer experience, Hagedorn's Appliances was seeking to rebrand its business in a way that honored the company's history while also embracing the future. Our first step in the branding journey was to design a new logo to appeal to the dealer's local audience. As part of that process, we also developed a comprehensive style guide to ensure effective and consistent branding across all channels.
Hagedorn's Appliances Website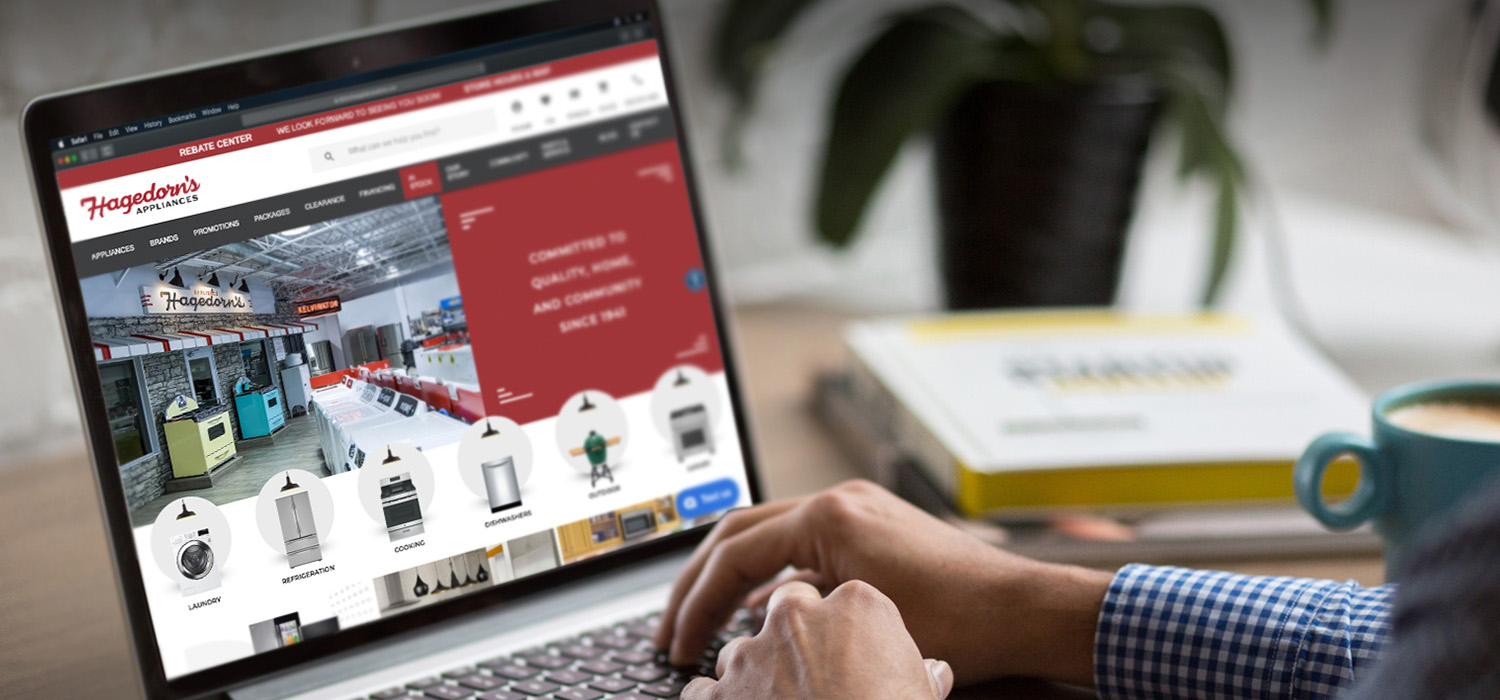 As part of their rebrand, Hagedorn's Appliances asked for a fresh website design to reflect their new brand's retro-modern style. They also wanted to position their brand to attract more premium and luxury consumers. With those two objectives in mind, our team went to work. Once designed, we worked directly with Hagedorn's industry-specific website developer to make the design come to life online.
Hagedorn's Appliances Showroom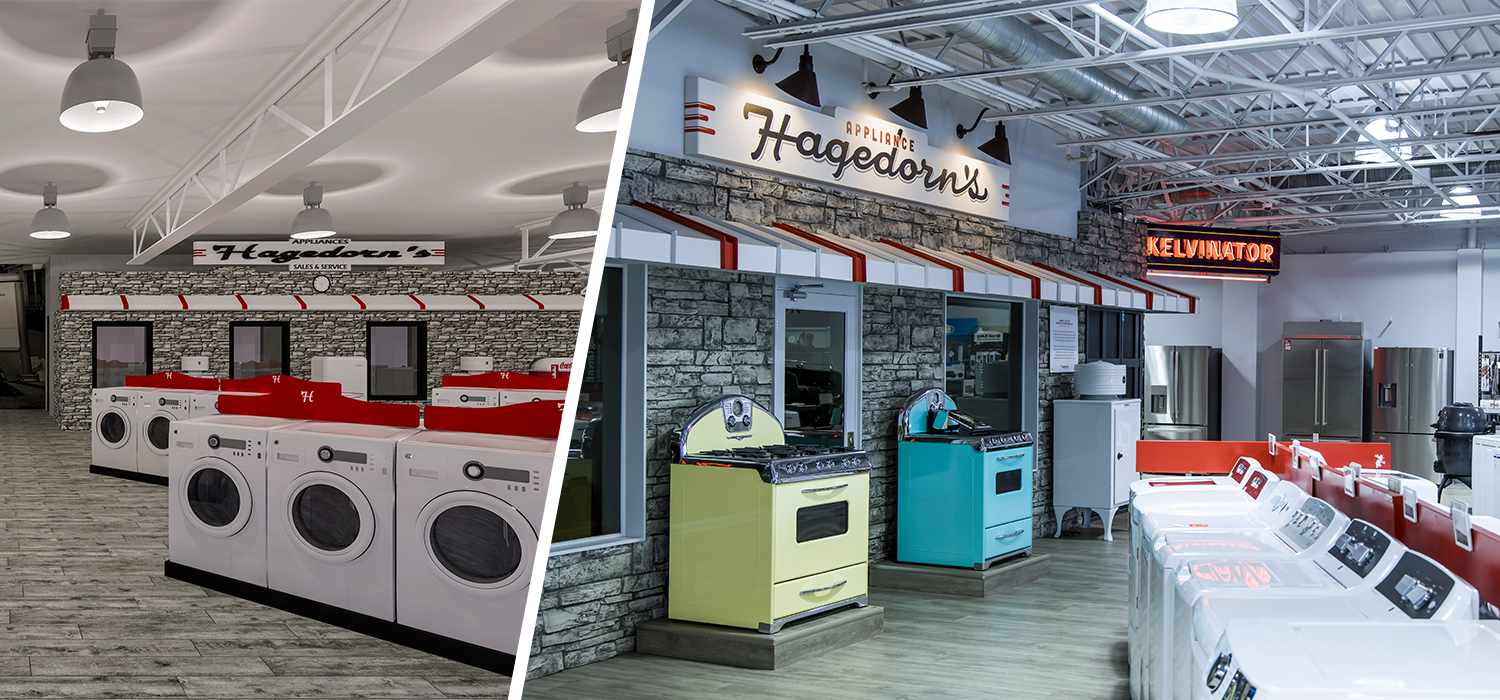 Hagedorn's Appliances' 75-year history in its community provided the inspiration for its new brand and its new showroom. From recreating the stone and awning facade of the original storefront to wall murals featuring vintage photographs of the business, the new showroom captures the pride of place Hagedorn's has in its community while creating a welcoming and nostalgic environment for customers. We were privileged to lead all aspects of the project, from initial 3D renderings to materials selection to final signage and product placement.
Bob Bailey's Appliance Co. Logo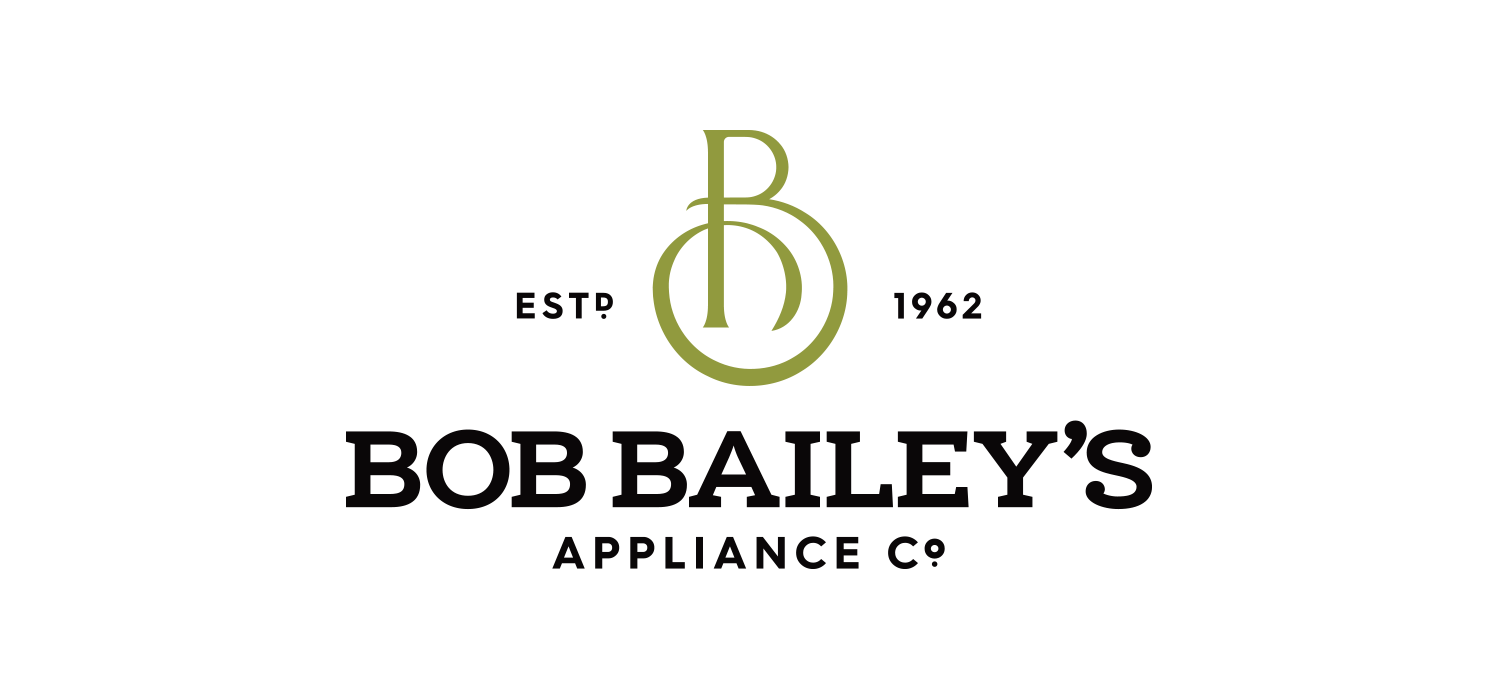 Family-owned for three generations, Bob Bailey's Appliance Co. is a high-end dealer that has always been committed to creating a stellar customer experience. Our branding team took the time to learn more about the dealer's history and its commitment to the community. With that in mind, we designed a fresh logo with modern styling while honoring the company's past.
Distinctive Appliances Logo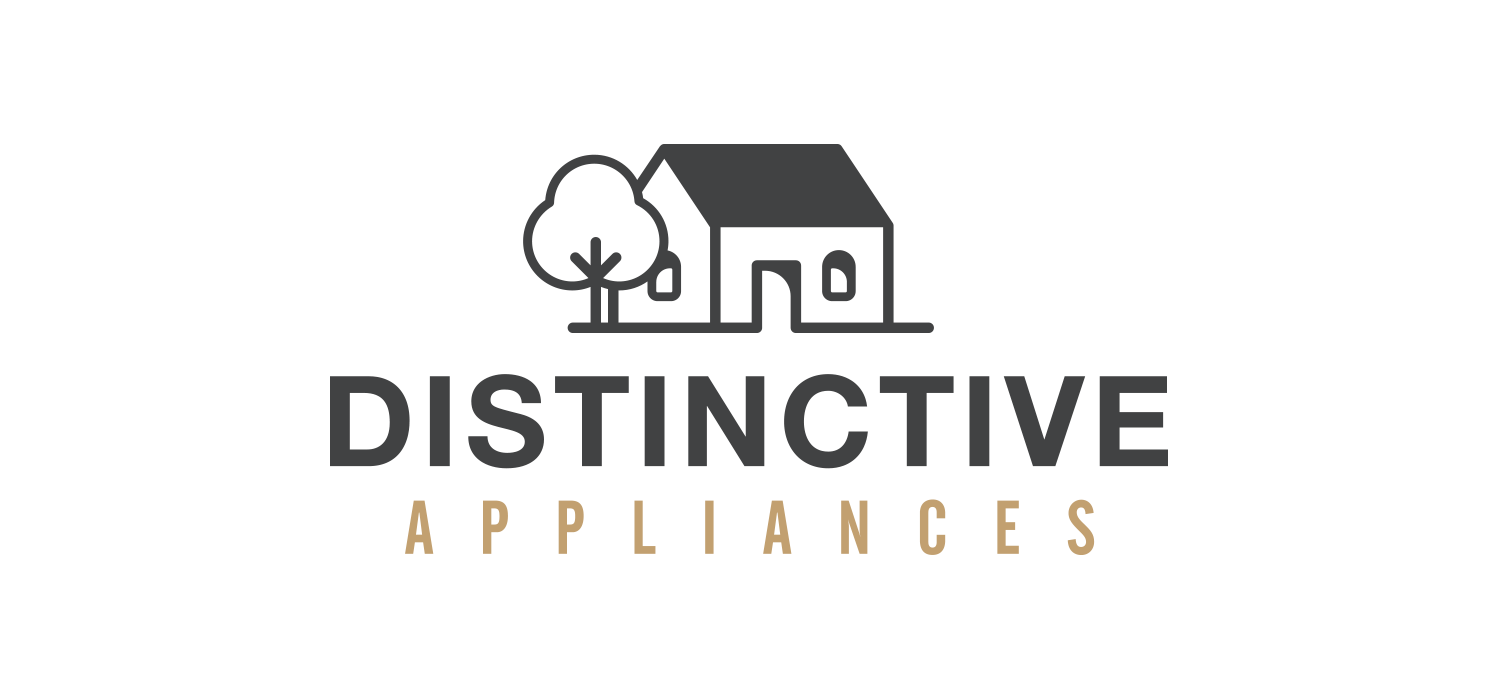 Distinctive Appliances approached us, along with their neighboring but separately owned business, and asked us to consider a tandem rebranding. As both businesses target the same affluent audience and often create co-branded advertising, our team was up for the challenge! We crafted a pair of logos that share the same graphic mark and tagline but with separate color palettes.
Distinctive Appliances Website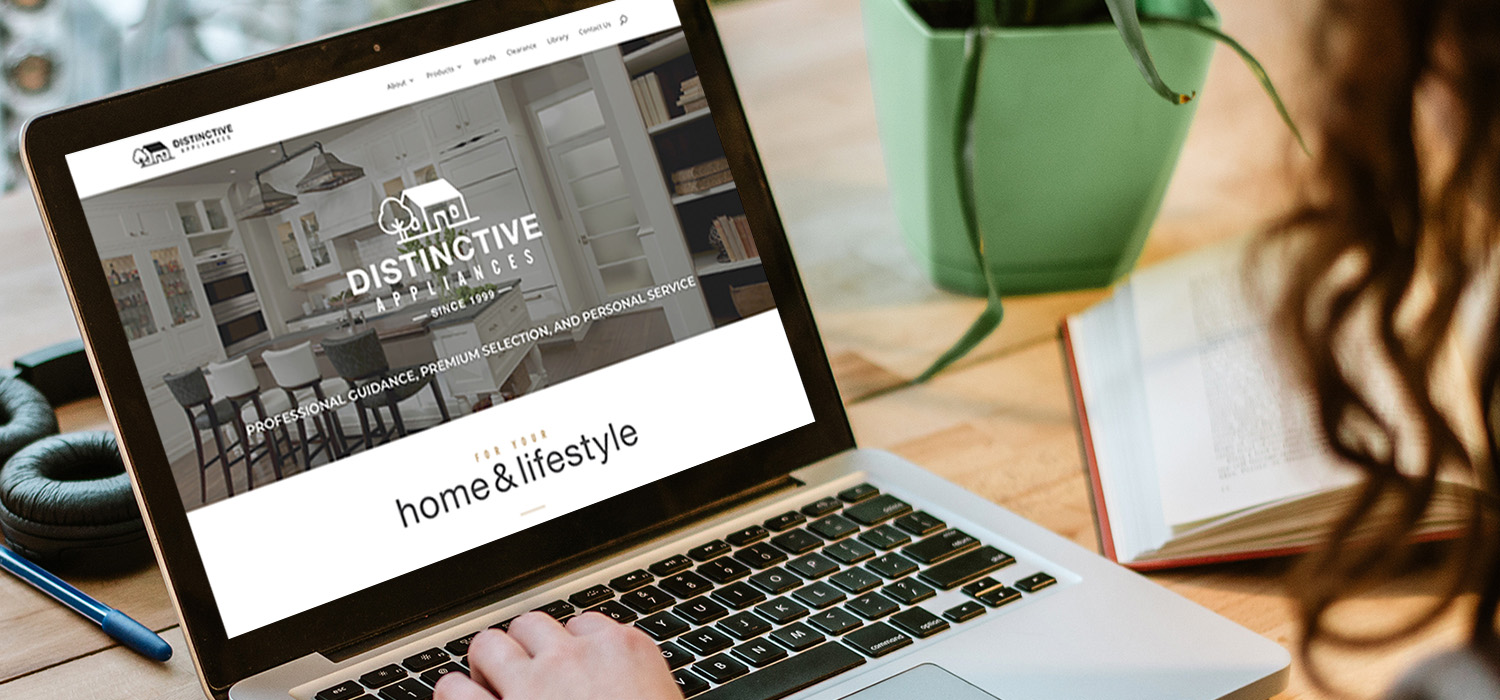 This brand-new website was developed for boutique dealer Distinctive Appliances. Every element of the site—and the new branding it showcases—was crafted with the expectations of its luxury audience in mind. Featuring bold, beautiful imagery, and content written to inspire and educate, the site is targeted at an exclusive audience shopping for products to enhance their lifestyle.
Friedman's Appliances Website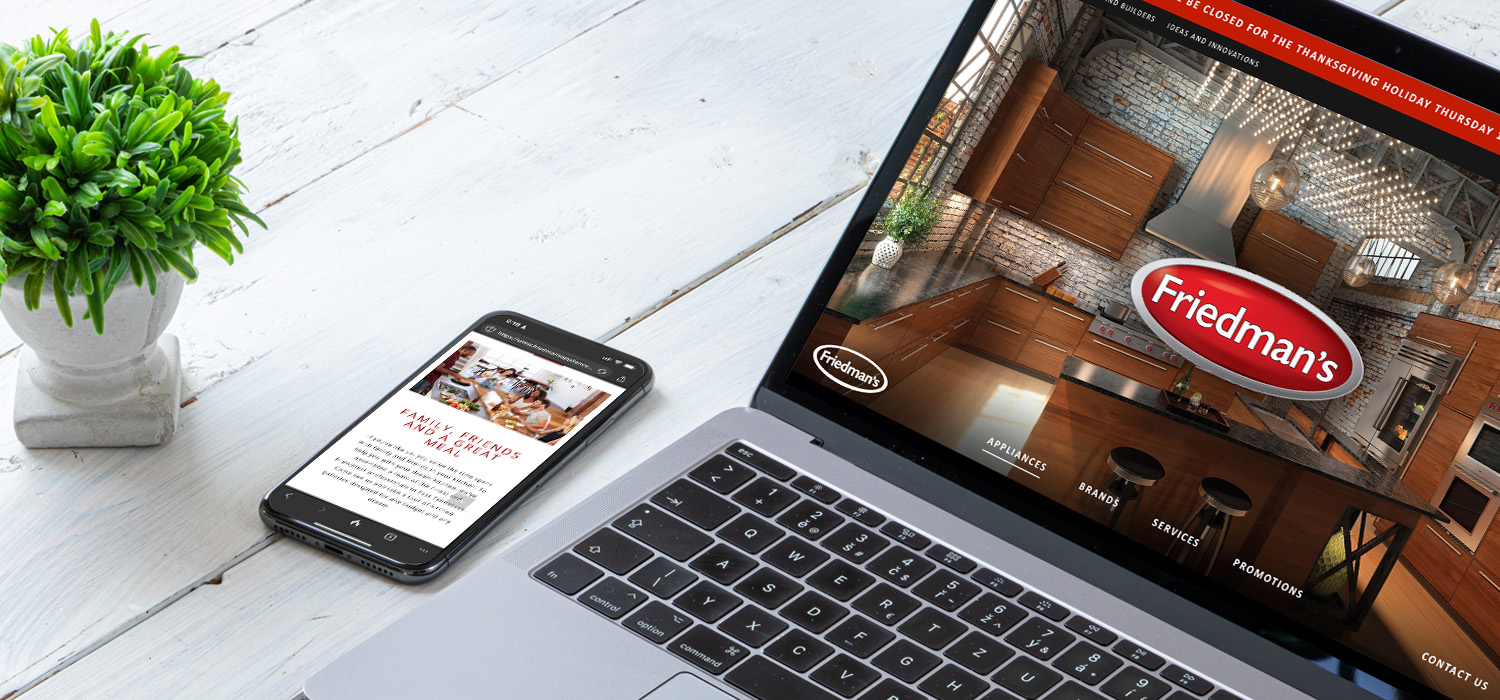 Working as a liaison between Friedman's Appliances and its industry-specific website developer, we redesigned the dealer's website to reflect its status as a high-end appliance dealer. Content and images focus on how premium and luxury appliances can enhance the audience's lifestyle. We also helped them curate their product list to focus on brands and products that appeal to an affluent audience.
Friedman's Appliances Booklet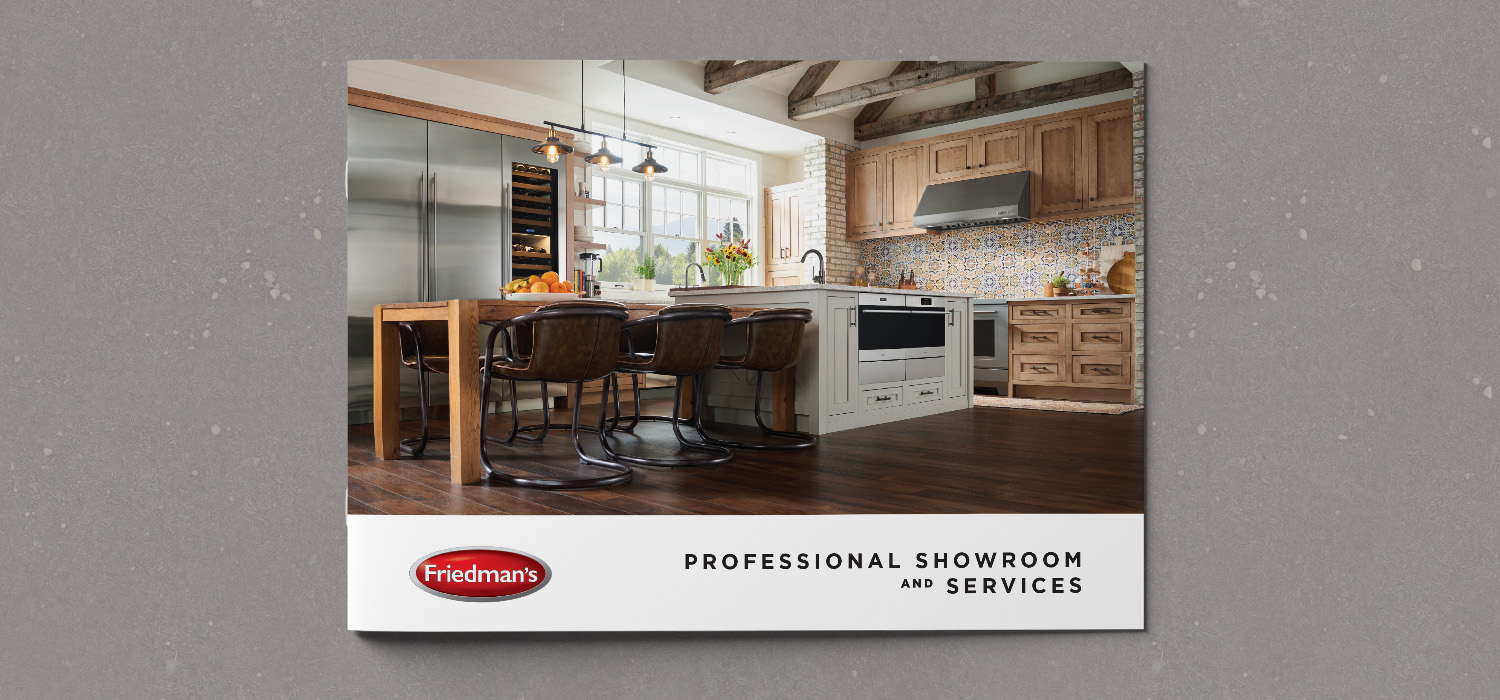 Over the course of our long-standing relationship with Friedman's Appliances, we have had the opportunity to create a variety of print assets including this recent booklet highlighting the company's family-focused approach and high-end appliance offerings. Through stunning imagery and informational copy, this booklet presents the premium and luxury appliance brands featured in the dealer's showroom while staying true to the Friedman's Appliances branding.
Friedman's Appliances Showroom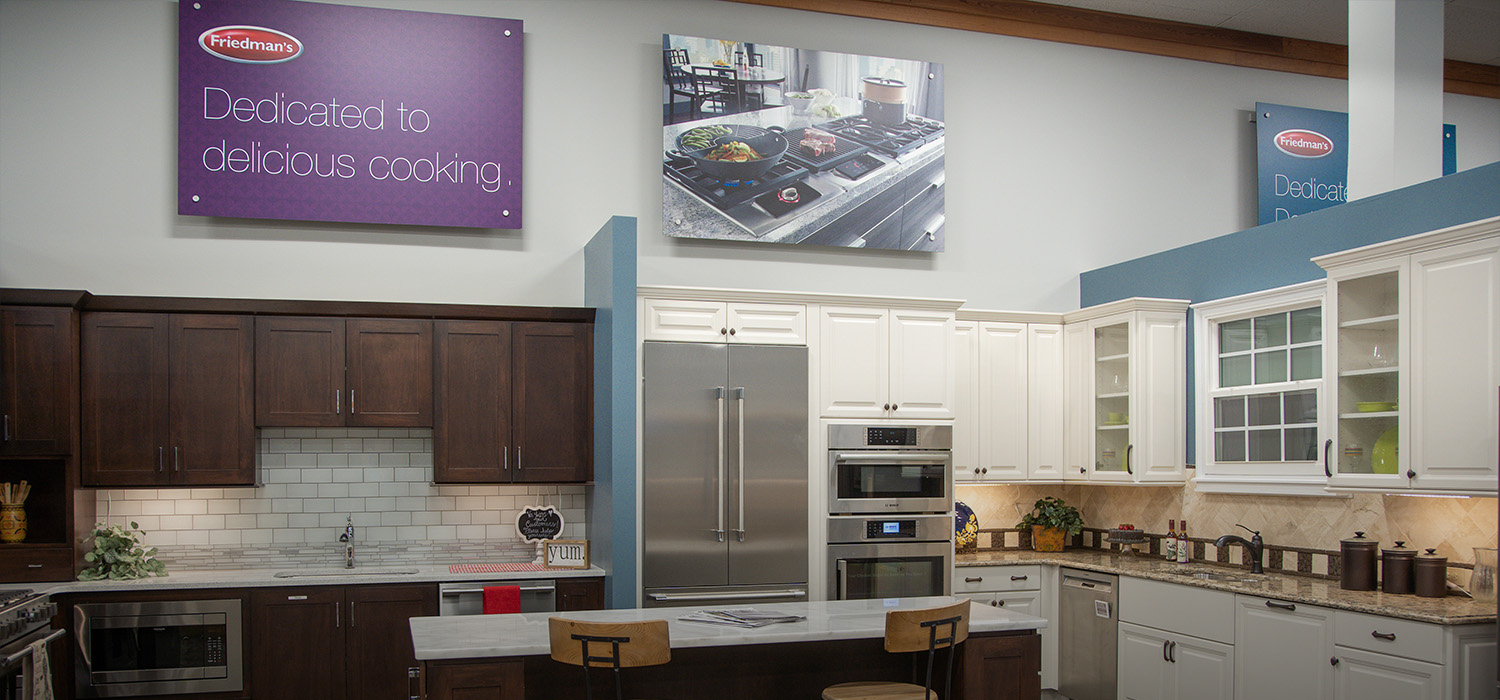 Our work for Friedman's Appliances extends to its showroom, where the dealer trusted us to provide insight and direction related to the layout for displays and signage. Through coordination with the client and strict attention to detail, the Affluent Bridge team helped to create an exceptional showroom experience that is consistent with the Friedman's branding.
Appliance Gallery Showroom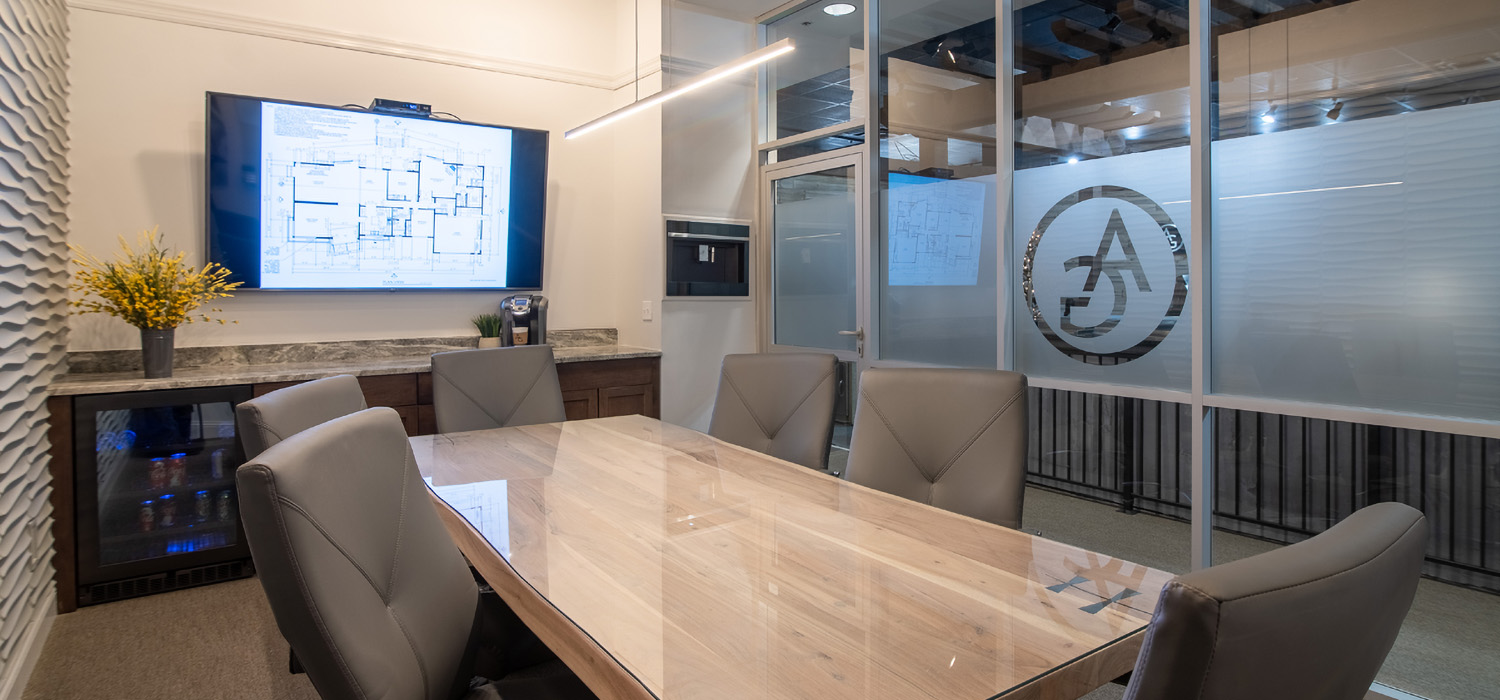 When tasked with updating Appliance Gallery's branding, we also developed a detailed brand management strategy that led to key changes in its showroom. The focus was on creating a high-quality customer experience for homeowners and trade professionals at every step of their journey. Today the Appliance Gallery brand is recognized as a market leader for premium and luxury appliances.
Appliance Gallery DBJ
Some markets offer unique opportunities to reach an affluent audience, and for Appliance Gallery, it's their local business journal. Our team developed an annual advertorial-style strategy featuring an engaging full-page advertisement thoughtfully written and designed to showcase how Appliance Gallery's indoor and outdoor offerings can enhance the lives of corporate professionals.
Appliance Gallery Mailer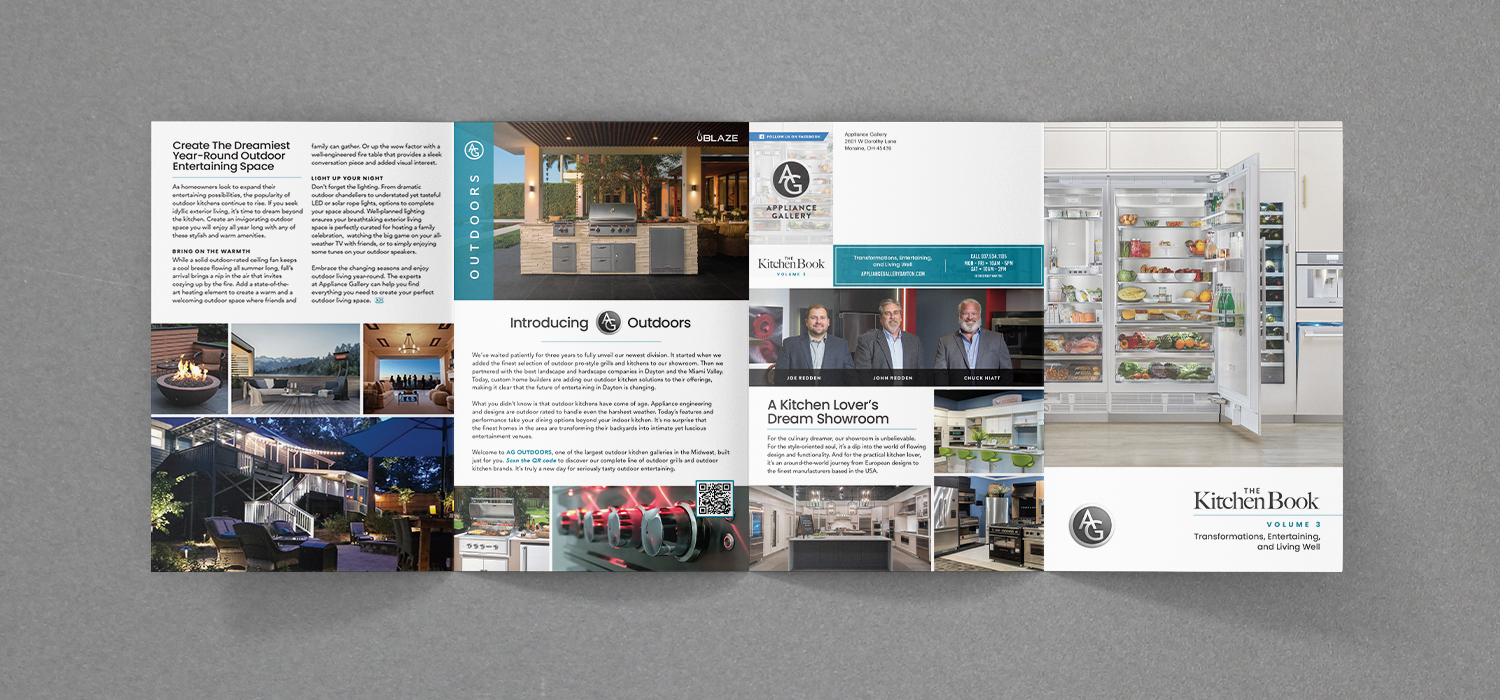 As we provide ongoing brand management for Appliance Gallery, our team has developed targeted direct mail pieces like this piece for the recent Kitchen Book campaign. This four-panel mailer features indoor and outdoor design inspiration curated for the affluent audience. Every element of this campaign—from the high-quality mailer to the custom landing pages accessed by QR code—strategically showcases the Appliance Gallery brand.
Elmira Stove Works Logo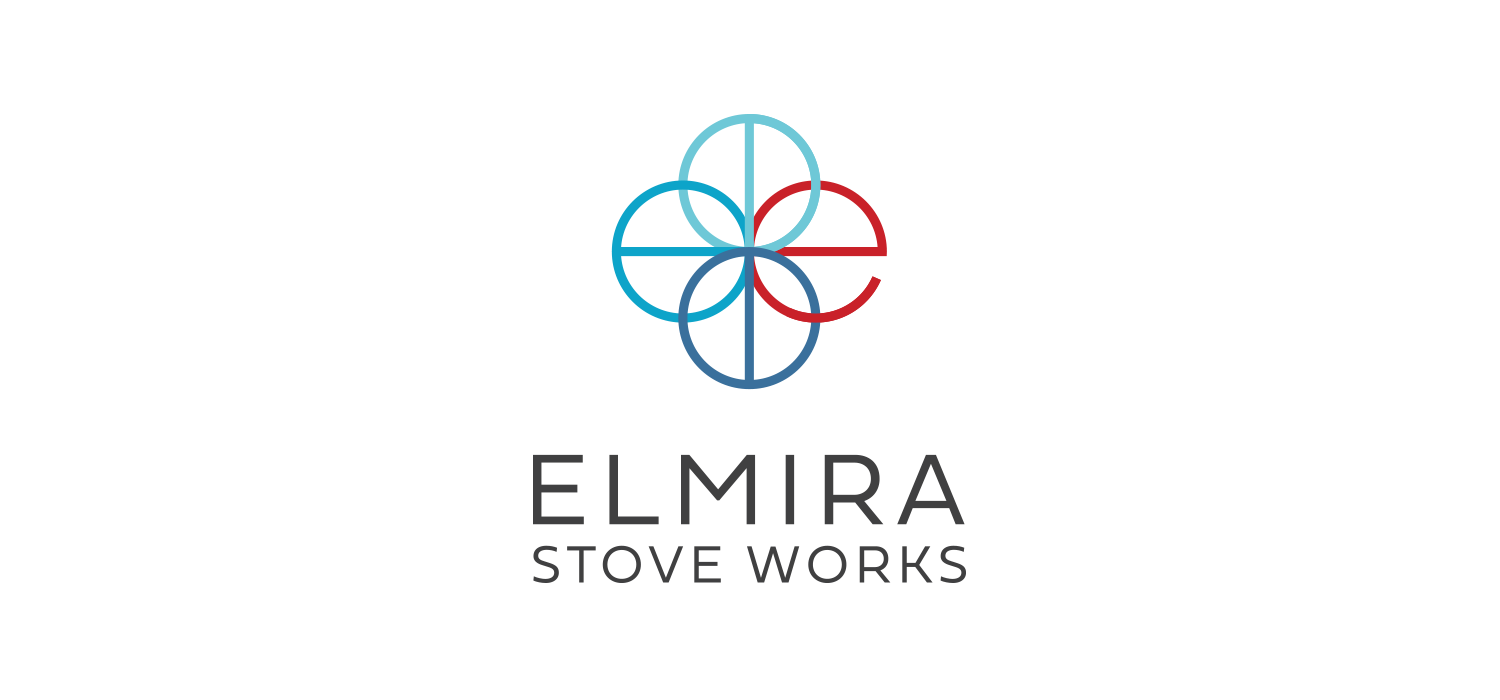 Known for pairing time-honored designs with modern appliance conveniences, Elmira Stove Works approached us about rebranding. After engaging in a discovery process to uncover what the brand had been and what they wanted it to be, our designers crafted a new logo and branding that both honors the classic craftsmanship of Elmira Stove Works appliances and offers a modern, clean feel.
Elmira Stove Works Website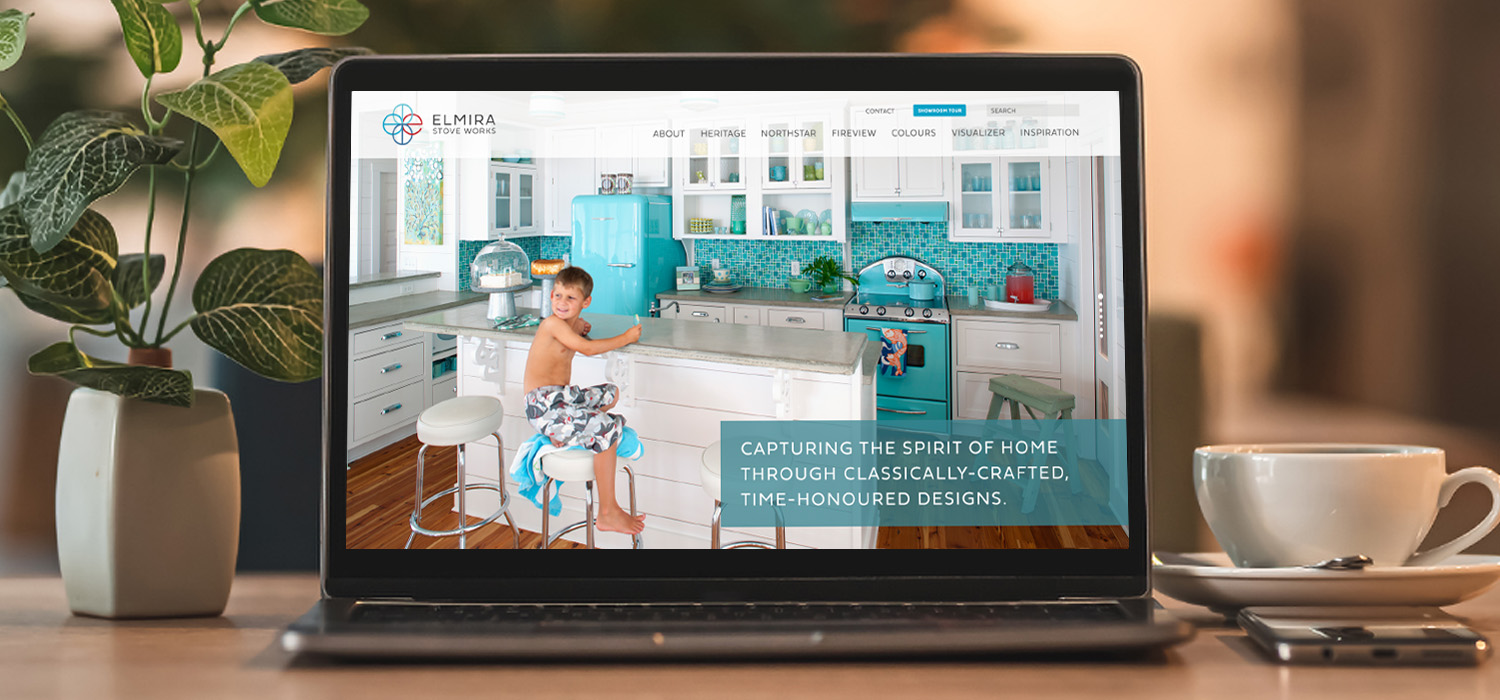 When Elmira Stove Works came to us for design direction for a new website, our team dreamt up a seamless online experience rooted in the company's new branding that reflects its reputation for unmatched customization. The site immerses viewers in the endless possibilities Elmira Stove Works offers through a carefully planned layout. It also features an innovative Kitchen Visualizer, offering a step-by-step kitchen creation experience.
ADU 40 Years Logo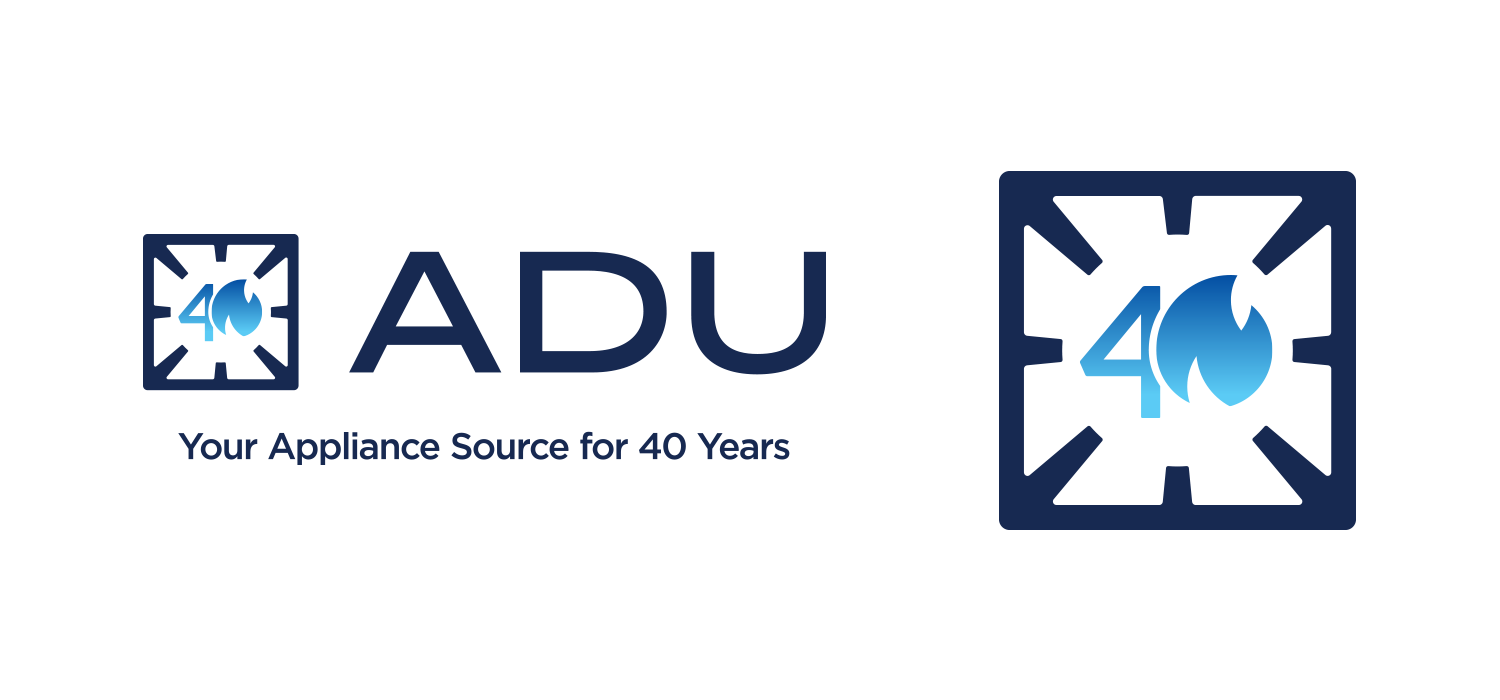 In honor of its 40th anniversary, ADU requested a special edition of its logo to celebrate the milestone. Based on initial direction and feedback from the client, we crafted a full logo suite package with options for both digital and print.














Are You Ready to Talk About Your Branding?
We accept a limited number of Dealer Branding projects each year. With each new dealer, we take the time to learn about your brand's history, its position in your community, and your hopes for the future.